Wine Stewards
We believe wine is something to be cared for, not manipulated

Eagle Harbor Winemaking
Our winemaking process sees wine for what it is—a living thing—and we consider it our job to tend to it, not control it. Starting with the selection of fruit from world-class growers in Washington's most prestigious AVAs, followed by careful hand-sorting and destemming, attentive fermentation, and aging 24-36 months in barrel before bottling, every step of the process is designed to help the wine to achieve its full potential.
"We treat the wine as a living thing, like a flower or tree. Our goal is to keep it healthy so it grows into something beautiful."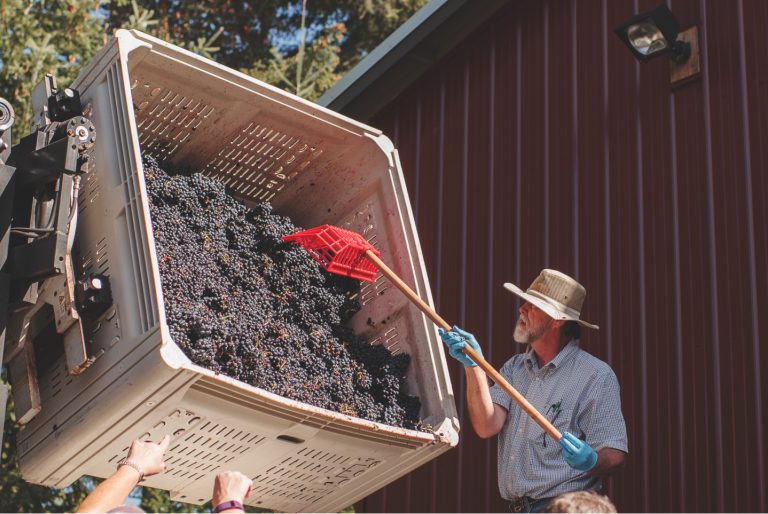 Vineyards
The Root of it All
We select fruit from some of Washington's best growers and vineyards to make Eagle Harbor Wine. From Dwelley Vineyard and Seven Hills Vineyard overlooking Walla Walla, to Kiona Vineyard on the prestigious Red Mountain AVA, to Sagemoor Vineyards in the Columbia Valley. Our quality begins with the unique nature of these people and places.
Processing
A Gentle Touch
Machines have their place, but we wouldn't trust one to process our fruit. That's why we hand-sort our grapes, resulting in fewer impurities and purer flavors for a more fully realized pallette.
Small-Batch
Limited Production
Eagle Harbor makes about 2,000 cases of wine a year, and we like it that way. We like being small because it enables us to focus on what truly matters and give every release the attention it deserves. That means many of our wines sell out, but we know every bottle that leaves our cellar is of the highest quality
Plastics
Avoiding Plastics
It is a common practice to use plastic vessels for fermentation, however that doesn't sit well with us. We think wine and plastic don't really mix, so we avoid plastics wherever possible.
Curious about winemaking?
Let us show you!
There are too many decisions that go into a single bottle of wine to list here; if you're curious about the delicious details of how we make wine, schedule a tour!
Schedule a tour now
Barrels
A Home for Wine to Grow
Just as the house you grow up in influences who you become, barrel selection is a critical step in the winemaking process. We trace our new French Oak barrels back to the specific forest that supplied the trees and match them to each varietal and blend, making sure they are perfectly paired for harmony.
Age
Each Wine in its Time
Wine is constantly evolving, and we believe in giving the wine time to find itself. All our releases are aged 24-36 months in barrel to allow the wine to mature before bottling, so our wines are delicious the day you buy them, and for years later.
Taste for Yourself
The best way to experience all the care we put into our wine is by enjoying a glass. Visit our tasting room or browse our online store to enjoy the fruits of our labor.
Shop now