At Your Pace
Whether you're just off the ferry or taking a break from your day, our tasting rooms are the perfect place to enjoy our wines and savor the moment

Eagle Harbor Winery & Tasting Room
Our Winery & Tasting Room is the beating heart of our operation, and the best place to get the full experience of our wine and process. In addition to our attentive, knowledgeable staff pouring delicious wine in our modern and light-filled tasting room, our facility is host to nearly every part of the winemaking process, from crush to aging to bottling.

But it's not all work and no play - summer weekends see live music and in the fall you can witness the hustle and bustle of crush (you're welcome to roll up your sleeves and sort grapes with us if your timing is right)! Did we mention there's also delicious wine to taste?
Address: 8897 Three Tree Ln NE, Bainbridge Island, WA 98110
Phone: 206-842-4669
Hours: Thursday - Monday, 12-5pm
Large Groups: Please make a reservation to ensure we can accommodate your party. Groups over 12 please reach out to us directly.

Reservations: We highly suggest making a reservation, you can do so here.
Downtown Bainbridge Tasting Room
[Currently Closed]
The original Downtown Location has closed. We will be moving to a new location in May, closer to the ferry terminal, and look forward to welcoming you. Stay tuned!
+ Address: 400 Winslow W. E, Suite 115, Bainbridge Island, WA 98110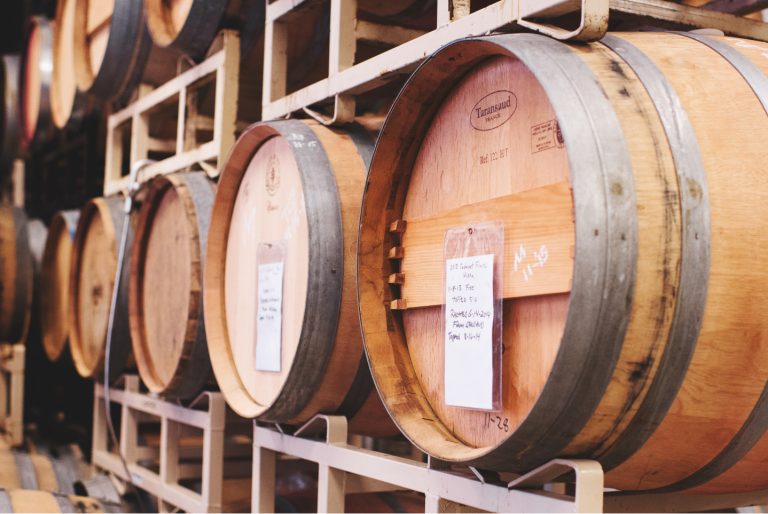 Take a Tour
See Where the Magic Happens
We love giving tours of the winery and showing the care we put into our wine. If you'd like a tour with your tasting, simply call ahead and we'll do our best to accommodate you.
Event Space
Make Your Next Event Soar
Whether you are planning a birthday party, corporate event, or rehearsal dinner, the Eagle Harbor Winery is the perfect place for you and your guests.
With a modern industrial feel, the tasting room can accommodate up to 24 guests, with occasional seating, and 12 guests for a seated event.
The outdoor tented patio can accommodate up to 50 guests with occasional seating, and up to 32 guests for a seated event.
Interested in learning more?